Fourth of July Photos, 2006
Photos from our outing to the ball game and fireworks. Take a look.
The new Sports Areana looms in the background of this shot of the field. We had nice shady seats today.
Lisa got eight tickets this year and supplied the kids with candy and glow in the dark toys.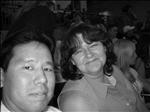 I tried to take a self portrait here. The Ports beat the Nuts tonight, it got quite loud in the later innings.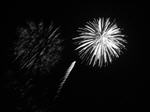 Finally after a long wait the fireworks show starts. Check out the full size color images by clicking on the thumbnails below.