Backyard Flowers 3, May 6, 2006
This is the third edition of flower photos this year. Here are some evening and morning photographs of flowers in our yard. I like these better than the previous flower photos this year, sometimes it takes multiple days of consideration and reflection to really judge a set of photographs. Also I find that my skills need sharpening and I tend to improve with practice. I find it difficult to stop photographing once I get started, I feel compelled to keep trying to get that really nice shot. A nice shot should have sharp detail, a pleasing contrast and the texture captured. Also the photo should have minimal distracting back ground elements, which most time means cropping. The image should 'pop' when viewed. See if any of these 'pop' for you by clicking on the thumbnails below.
Evening photo of a fully opened Peace bloom, this photograph has a yellow cast to it. The pink is not very visible at all.
Mini rose bud with really rich colors.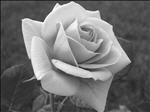 Mini rose bloom a little further along, same as above.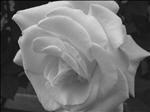 John F. Kennedy, a pure white, fully open bloom.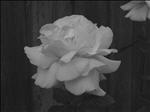 Peace bloom with the tinges of pink color on white with very little yellow visible. This is the second largest rose we have.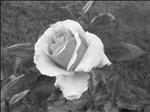 Tournament of Roses not quite open all the way.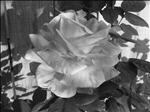 Largest rose, called First Prize.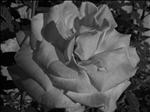 This morning light photograph is not too bad. This bloom is a spectacular 10 inches across and is named aptly First Prize.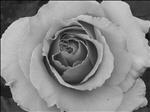 A Pearl Essence bloom that is not quite open. This stage of bloom has a very velvety quality that can be appealing.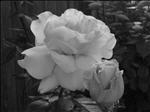 Two stages of the Peace bloom. Buds will appear mostly yellow. Full blooms will lighten and petal edges will be tinged with a nice pink with yellow hints remaining on the base of the petals.
Another attempt to photograph the Pearl Essence bloom.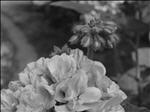 Geranium bud seem to burst like a firework over another cluster of blooms.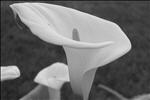 Calla Lily bloom detail.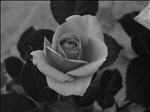 This is that mini rose in a pot that I keep returning to. This was purchased as a gift last year and was returned to me after the blooms were gone. It has done well and is one of my favorites for some reason.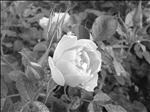 Mini rose buds in pink, we have two of these in the front. One is going to be moved to accommodate a new addition, a newly purchased red climbing rose called Don Juan.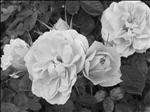 Mini rose bloom cluster in pink. This is a very nice rose because the maintenance is low, faded blooms do not have to be removed.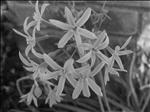 Purple blooms, unidentified.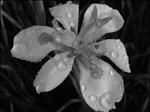 African Iris in the morning.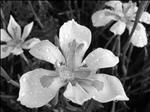 African Iris grouping.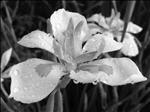 African Iris photograph with sharp details.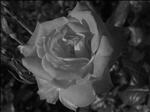 Joseph's Technicolor Dream Coat. This rose has smallish blooms but makes up for it with large quantities. This is morning sunshine. I found out that this direct light even though not full strength, is difficult to photograph in.
This is my 6000th photo, just a crop of that photo really. Some 25 months after getting my Canon S50, I seem to average 2880/yr or 240/mo or 7.89/day. Of these 6000, 800 or so were worth publishing to these web pages. This represents an estimated success rate of only 12% or one out of eight. Most 'failures' are lack of sharpness due to out of focus or moving subjects. The second most 'failed' exposures is poor composition. Many times I find the first exposure of a set of photos is the best composition and often the best focus and exposure setting. So I try now to take a few and move on, I can come back later, but keep moving. It is frustrating to see photo after photo with the same fuzzy subject.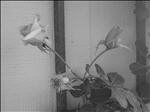 Climbing rose with bud, bloom and stem.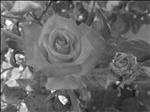 Joseph's Coat with drops of water.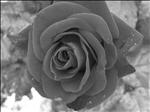 The most difficult to photograph and my favorite rose, Crimson Bouquet. I have yet to get a great photo of this intense red bloom. I keep trying. This rose due to it's location near the basketball hoop seems to take a beating all the time. It survives, but I often pick up many wilted and broken branches.
Coming soon are Arizona, Voodoo and Buttercream. Stay tuned for Flowers Page Four 2006.