Stuart is Fourteen, March 14, 2006
Stuart didn't want a party this year. We did take him out to The Outback Steakhouse for a nice dinner on the weekend though. But here is the cake we had for him during the week.
Stuart's got some nice looking teeth, check em out. It's rare these days to see a smile from Stuart. At least very few smiles for his Dad. Are there fourteen candles? I think we ran short and only found 13, he didn't seem to mind. Stuart is such a good sport.
Taylor and Lisa with our baby, he is growing up so fast.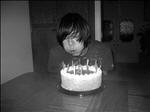 Stuart makes a wish and blows out all his birthday cake candles. The cake is a strawberry shortcake ice cream cake. Just like the vending machine strawberry shortcake ice cream on a stick that is Stuart's and my favorite when on the road.