Goodbye My Shima Tract, February 2, 2006
My favorite long run course is a delta island called Shima Tract. The delta island is all farmland with walnut trees and alfalfa fields. The area is a 10 minute walk from my front door and allows me to enjoy quiet, fresh air, wide open spaces, beautiful vistas and abundant wildlife. It takes me over an hour to run around the perimeter, so I guess its some 9 miles around. A major developer has announced plans to build on this large parcel of land that is already surrounded on three sides with homes. I am saddened to think that someday soon I will not be able to enjoy jogging on the levees. Things I normally see out here are boats, hawks, egrets, coyotes, turtles, frogs, ducks, walnut trees, whooping cranes, crows, coots, doves and cattails. Here are some photos of this vanishing beauty on a fine day.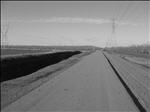 This is the only short paved road through the walnut orchards on the whole island.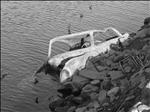 Sometimes the wildlife aren't the only interesting items.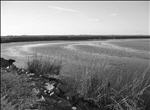 A typical view. Most wildlife is difficult if not impossible to photograph with my feeble zoom.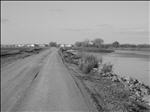 Levee have been core drilled last year, aerial surveyed and now recently graded with a new gravel surface. Nice for running but for how long?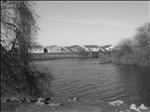 Houses built in the last few years loom over the levee and water.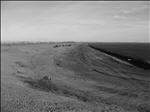 Looking east back toward the city you can see a row of stumps.
Large walnut tree stumps are all that is left of what was once a magnificent tree lined, shady levee. The trees were cut down and ground into mountains of chips that were then trucked away.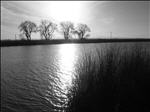 A lowering sun glows off the water. This is the view looking west toward Mount Diablo.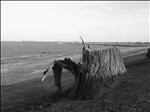 A stump, one of many, provides a foreground for the winter fields.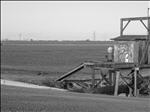 The Spanos building is visible in the distance.
Three sets of power lines cross the area.