Yosemite National Park, November 6, 2005
The night before, after checking in, we go in search of food. It is cold and we try the lodge. The number of people seems incredible given the time of year and the fact that the falls are almost nonexistent. All the restaurants are packed because it's dinner time. We are told the wait will be one and half hours, ugh. We end up back at Curry Village, we get a great parking spot and then stand in line, in the cold to order a pizza. We get a pizza and the last two salads, cool. The food is not bad, but the dining atmosphere was less than perfect. It was crowded and loud. Not the best way to celebrate a special occasion. The next day will be better.
There were some comfortable chairs in Curry Village and we took advantage of them this morning as we contemplated what to do today.
Lisa relaxes in the morning
Half Dome, again.
Fall leaves and some bare trees frame the reflected view of Yosemite Falls.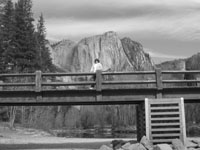 Lisa stands atop the swinging bridge and looks down at me on the river bed with Yosemite Falls in the background. The Falls were just barely trickling again after drying up in the late summer and fall. And this is a much different scene from earlier this year when this whole valley area was closed due to flooding on May 27. See my photos from that time here. This bridge was almost under water at that time.
Half Dome is reflected in the surface of the Merced River. We spotted some lazy trout from here. This photo turned out better than I thought it would, the colors I found pleasing. See what you think.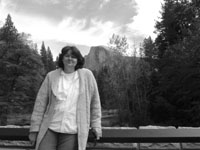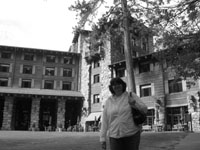 Lisa poses in front of the Awahnee Hotel. We had the most wonderful brunch in the main dining room with a nice piano music to accompany our fine dining experience. A waiter even sang It's a Wonderful World. Smiles and applause all around. It was my first visit to the Awanhee and I was impressed with the fine decor and refined atmosphere. We should have stayed here.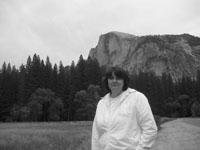 Some fall colors are visible in this photo. But there were some really nice examples of fall colors sprinkled around the valley. I just didn't get any good photos of it. Well I guess that can be something to look forward to.