Great America in October 2005
Bounce back tickets are great. Our tickets to Great America in May also included a free entry in September or October. We use our bounce back tickets on the next to last day. The decorations for Halloween were fun to see. Lots of skeletons, pumpkins, cobwebs, spiders and other fun stuff. Very creative stuff that took some effort to set up. The weather was cool in the early morning and in the shady, windy areas. The sunny protected areas were down right hot. We got here late and left just before they closed. The park closed at 6pm, we were not too disappointed at the early closing. We had lots of fun and a higher than average number of photos turned out nice. Here are a few, click on the thumbnail to get a look at a bigger image.
We arrive and pose near the entrance.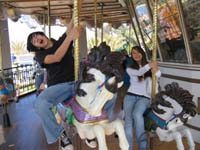 The obligatory first ride with some exaggerated exuberance.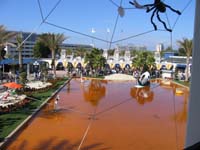 Normally blue water is dyed orange and the carousel is made to look haunted.
Dippin Dots, a frozen ice cream in small spherical form factor that sticks nicely to one's tongue as Taylor and Stuart demonstrate.
Invertigo roller coaster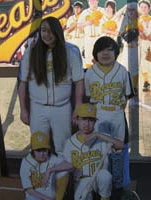 Bad News Bears
Drop Zone, look for Taylor and Stuart.
Nice pumpkins Stuart
Hee hee!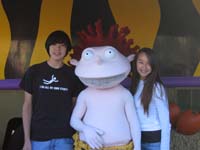 Ha Ha!

Whoa!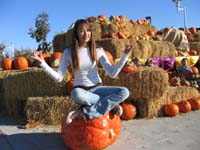 Zen out dude!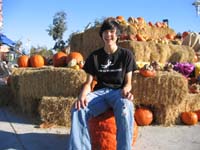 Stuart thinks of something funny while sitting on this huge pumpkin.
Pumpkins make ou think. What I don't know, but these guys contemplate the pumpkin, life and everything. Or not.
Zoom goes the Top Gun coaster over our heads.
Taylor glams it up with a fancy hat.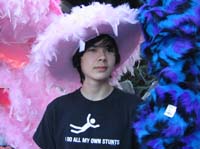 Stuart's mannequin pose.