Spring Flower Photographs, April 2005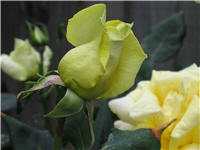 Wet and cool weather seems to hang on for a long time this year. The blooms are coming but the wetness promotes a very damaging fungus and some blooms are a little less than clean. These are some of the better samples from the first bloom of the year.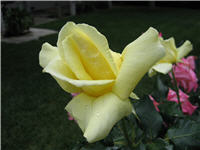 The overcast days make for some photo friendly light conditions. Full sun on a bloom usually means that camera settings tested and retested to get the quality that I like.

This Peace rose bud seems to be bursting at the seams, the petals have ripples and bumps.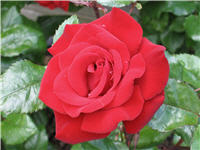 My camera has a hard time with the intense red color. The focusing is off and the color reproduction is also off. I am really frustrated while trying to get a good shot of this Crismson Bouquet bloom.

Here is a view of a Lily, looking down into the bloom.

A new addition to our collection, Angel Face climber. Light fragrance, nice size and shape pleases the senses. When we buy bare root or non blooming potted plants such as this, one has anxiety and anticipation until that first bloom. We are happy with this selection.

Tournament of Roses growing in pot. This is another favorite of mine. The color is solid and the blooms seem to last a long time.
Crimson Bouquet again, this plant is a very hardy rose. Qualities include glossy, dark green foliage, profuse blooms and long lasting blooms. I am very happy with this selection even if it was by chance. Some notes on this photo, it is sharpened and color adjusted electronically. The original is more overexposed and slightly out of focus. I hope you enjoy this is repair job?