Yosemite March 2004
Weather has been nice for a while. The calendar says it is still winter, but the temperatures feel like spring. I have a National Park pass and the last time I used it was in October of last year when a group of us hiked past May Lake to the base of Mount Hoffman. Taylor and Lisa where scheduled to be out of town and I just got my new digital camera a few days ago. The itch to get outside was growing again and events seemed to converge. It was go time. Stuart and I packed up some things and took off Saturday morning. The plan was to spend the day and night in Yosemite and come home the next day.
When we reached the highway 120 entrance we encountered a line of cars that moved ever so slowly. A few minutes though and we were through. I made a quick stop at the first valley viewpoint and turnout.

I snapped a couple of quick shots with the camera. Half Dome always looms large when you first see it. For me it just seems much larger than life for a split second, like some surreal zooming film effect. No camera or zoom lens can ever capture that emotional response.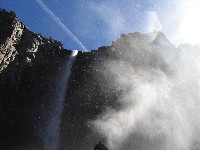 Next stop is Bridalveil Falls. We get right up to the base at the end of a very short walk from the parking lot. The flow is moderate and the mist is moderate. We have no rain gear and did not need it. In a few days that may change as the flow quickens with the warmer temperatures. I am afraid to pull out my camera in the mist, but I do get a couple of shots off, including this one.

A short drive eastward and I stop to snap a photograph of Sentinel Rock. The Sentinel Beach area is closed and I am disappointed. I briefly consider walking out to the beach but figure that many photo opportunities will arise. I can fit 98 full size, superfine quality images on my 256 MB compact flash card. I need to keep that in mind this weekend. I stop at the Swinging Bridge turnout and we walk out to the Swinging Bridge picnic area.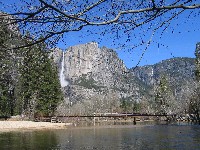 We look around, play some in a snowfield and I snap some shots of Yosemite Falls which can be seen from the Swinging Bridge.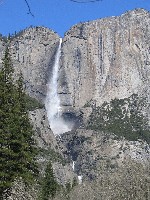 I also try out the 3X optical zoom. This shot shows the lower falls and the ice pile at the bottom of the upper falls.

After checking in we stow our gear and pull out the bikes. We end up touring Happy Isles and on the way to Mirror Lake I snap a shot of Stuart in front of North Dome. We walk our bikes up part way up to Mirror Lake. Once there we take a walk around, play in the sand and snap a few more photos.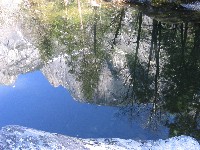 One is of Half Dome's face reflected in the water of Mirror Lake. The only flat, calm part I could find.
Once we done playing in the sand and a small patch of snow we ride on.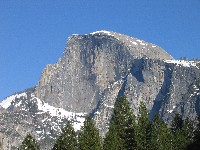 We go past some unnamed falls on the North wall west of North Dome and look back at Half Dome. We started to ride out to El Capitan for a sunset but find out that the bike path doesn't seem go directly out the two miles, later it turns out we just missed the hiking trail out there. So we turn around back toward Curry Village past the Yosemite Lodge, LeConte Memorial and skating rink. Bikes are great for getting around!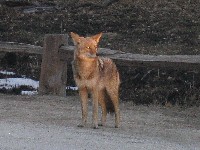 Just before we get to Curry Village we see a coyote standing in the middle of the road. We get pretty close and just watch as cars stop or make illegal u-turns to get a view.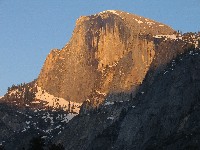 We snap quite a few shots of the coyote and of the setting sunlight on the Half Dome. After some cafeteria salad and pizza it's bedtime.
Next morning we pack up and get some hot chocolate, mmhhm, that hits the spot. We get moving toward the Wawona tunnel and the Inspiration Point trailhead. We discuss hiking to the top of Yosemite Falls and driving out to the Badger Pass ski area as my camera battery sits in the charger. The battery low indicator popped on after 50 or so photos. We get to the parking lot at the Wawona tunnel and I start eating, drinking and packing. Stuart takes off and hikes/climbs up a granite slope that has rivulets of runoff trickling and splashing down.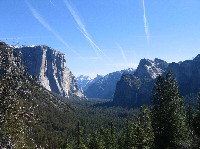 The sounds are a soothing music accompanying the beautiful views on this wonderful day. After rounding up Stuart we change into hiking boots and start off. Or I should say up, because the trail does some climbing immediately.

We break often and snack on dried mangos. The trail is 1.3 miles and we figure at one point to be three quarters of the way up when we encounter signs that indicate we are only halfway up. Ugh… Snow patches covers much of the upper trail but it is not bad. The patches provide some distracting snowballs. I keep on the look out for photo opportunities but see few and when we get to the top, a sign indicates we have reached Inspiration Point. We are happy to be done but I search around and around for a view. My feet sink up to my knees in snow as I tramp around up and down. The Pohono trail heads back toward the east to end up at Glacier Point. Finally I spot asphalt between the snow patches heading off to the west skirting the slope down to the valley. We follow that and end up in an area where the trees are a little more spread out. The view of the valley here is good except for those darn trees again! We find a log in the shade. It's pretty warm and sunny up here and we eat some lunch. I complain about the trees and make cell phone call to Lisa and mom while we cool our orange juice bottles in the snow.

I climb up a tree some 15 feet to snap a shot of the valley that barely includes Bridalveil Falls.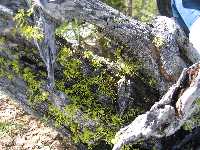 Then I tried another feature of the camera, macro. I should be able to take a photo of an object that is only 5 inches away from the camera. Here is a shot of some lichen.
Just as we pack up and are ready to leave, a couple wanders over to us. I invite them to occupy our little spot that we pleasantly had all to ourselves. There were very few people on the trail on the way up, just one couple. On the way down we encounter the two hikers in addition to the couple at the top. It takes us only 20 minutes to walk/jog down to the car in our completely wet boots and socks. Our pants are wet up to our knees too. We change into dry clothes and look forward to getting home.