Southern California, June 2004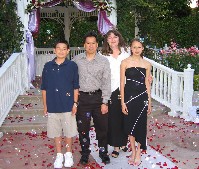 After the bride and groom, the wedding party and most of the guests were moving off we posed for a family shot in front of the decorated outdoor gazebo. The bubble machines were cranked up.
After the prereception and the buffet dinner some real characters showed up. They were ready to interact and pose for some memorable photos. Including another one taken by someone else.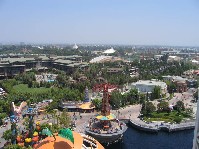 Our plan after the wedding was three days of Disneyland and California Adventure. I took this photo from the top of a ride loking down on the nothern shore of the water feature in the middle of the California Adventure. You can see the Grand Californian Hotel and Disneyland in the background.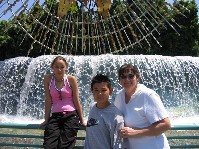 The day was perfect, sunny but not too hot.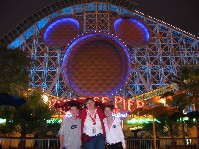 The night was nice too. It was a full day of going on most of the rides. After three days and nights of Disney parks we spent a few hours at Knotts Berry Farm. Then it was on to San Diego.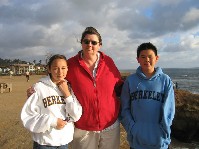 After checking in, we drove through downtown and the Mission Beach area before stopping for a look see at Sunset Cliffs. Later we watched the sunset from Ocean Beach.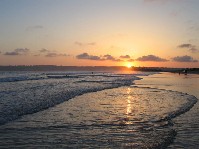 After a day at the Zoo we went to the beach that Charise recommended, Coronado. Many Navy aircraft approached right over us and landed nearby. We ate dinner on the beach and then played in the surf and sand till the sun went down. It was a real good time. The next day we spent at Seaworld. The new Atlantis ride is a water ride but you stay fairly dry. But then we all got very wet on the rapids ride. Serves us right for the soaking we gave to many people as they passed by the "pay to spray" stations.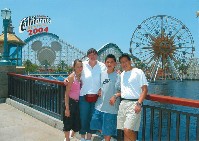 This shot was taken by a park camera operated by an employee and printed on the parks printers. So I brought it home and scanned it. It sort of sums up our trip to the wedding and our tour of many of southern California's tourist attractions. We considered stopping at Magic Mountain on the way home, but only stopped for dinner in Valencia.