Bryce Canyon National Park 2004
After a nice night in the wonderful Ruby's Inn we are anxious to see Bryce Canyon. We leisurely breakfast and then stop at the Visitor's Center for a quick look around.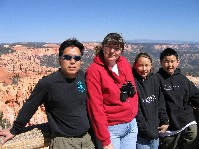 We bypass the lodge and all the lookout points and drive out the few miles to Rainbow Point. The roads were under major reconstruction and the passed over gravel sections while following a pilot vehicle. We snap a photo or two at Raindow Point and walk part of the Bristlecone loop trail. The trail is almost completely covered with snow.

As we drive back toward Bryce Canyon there are many stops and lookouts. We stop and look at each and every one. The kids by this time are not impressed with yet more rocks and don't even bother to get out of the car.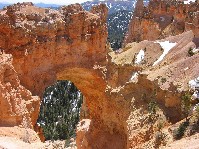 They miss some nice views.Like this Natural Bridge formation that is hard to capture in a photo.Most Bryce views are hard to capture in a photo because of the wide expanse of terrain. The road is high compared to the surrounding terrain and formations are called Hoodoos. So you are mostly looking down into a canyon and can see the landscape beyond.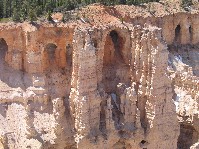 So I try to zoom in once in awhile to snap a detail like this one called the Grottos. We bypass Inspiration, Sunset and Sunrise Points and go back to the Ruby's Inn for a rest. It is very convenient to got to and from the park from this location and I highly recommend a stay in this Inn. While lounging around I study the map and decide a moderate loop hike called the Navajo Loop will get us back to the rim in plenty of time to see the sunset over Bryce Canyon.

The Navajo Loop is a very nice 1.3 mile hike down among the formations and then back up. The trail goes through a hole.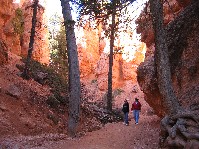 And among some big trees. The light and colors at this time of day are nice and only get better. We finish the hike and I linger for a long time to see the sunset and snap a few more photos like this one.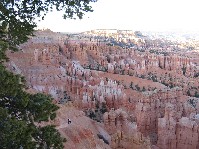 You can see people hiking up the last portion of the the Navajo Loop here. We then go back to the Inn and have dinner. Sunrise is 7:00 and I make plans to get up and snap a few pictures. I wake at 6:30, dress warmly and get in a frozen car. I drive and end up by chance at Inspiration Point and join one car in the lot. It is still a few minutes before sunrise and I set up the tripod. After awhile I move up and around trying to capture "the" shot. The few people that were there at sunrise all depart and I have a long time to study the scenes and snap away.

Here is Inspiration Point in the morning bathed by the low angle glow. Looking down the light is reflecting around and illuminating the formations. The colors are just fantastic and vibrant.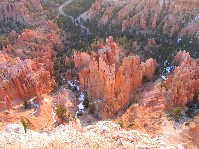 I keep on snapping away and think to myself that there is not enough film in the world to capture such beauty.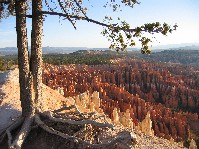 I frame the canyon with a tree branch and it's exposed roots.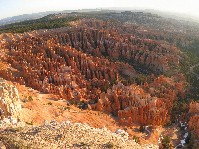 I then take a series of pictures and stitch them together. Here is a four picture panorama, 2 exposures wide x 2 high. You can see the horizon curve, somewhat like a fisheye lens effect. Unfortunately this image is scaled down to 800x600 pixels and does not do the original image justice. As a note, I brought my 35mm film camera with me and did not shoot one frame with it. My new 5mp digital is all I need now. For comparison I had 4x6 prints made from my digital images and they were comparable quality to my inkjet 4x6 photo paper prints. But I could also get nice 8x10 prints at home too. All I need now is a laptop or more memory cards because I will be taking many more photos now with hopefully a better chance of getting "the" shot.